Gallup tells us that "75% in U.S. See Widespread Government Corruption." Do we think this is a coincidence?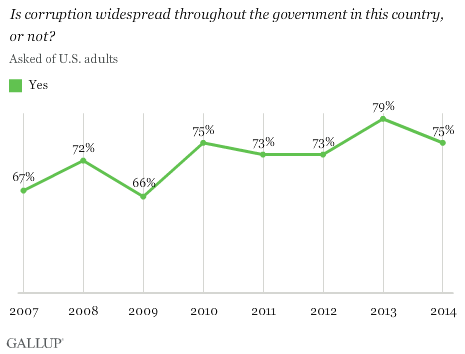 Not at all. We've devoted videos and a book to it. Those behind Shemitah and what we call Shemitah trends are taking the country apart. They're taking Europe apart as well.
We've discovered the key and unlocked the secret code that drives much of this destruction. Shemitah's trends do not emerge in a random way. When economic and military destruction takes place over and over in seven year cycles that means someone is driving it.
And those who have created and run central banks are doubtless behind the larger Shemitah trends. No other group is powerful enough. And no other group has the motive. The world is being driven in the direction of endlessly increased centralization – and what we've seen even in the last month is part of that process.
The idea is to make the world chaotic enough and people miserable enough so that they will accept the very thing that is making their existence nearly intolerable – endless, expansive government authoritarianism. After each economic implosion and phony terrorist activity, we are told over and over that only more government, more "security" and more invasions into our privacy are necessary.
Of course larger government inevitably brings more corruption. Only the market itself can winnow out corruption. Government BREEDS corruption. And the more corruption that is bred, the more we are told that the significant solution is additional forms of government that can challenge the corruption manifest in other parts of government.
This is just like central banking itself. Over and over central bank strategies cause economies to implode. At which time we are told we need MORE central banking and better bank strategies to avoid a repeat of what has just happened.  Not to mention central banks, like the Federal Reserve, were explicitly created in order to stop economic crises… which they cause.
The chaos, the corruption, the dysfunction – all of this is a cyclical self-fulfilling process. The more "solutions" are provided, the more dysfunction and debasement and destruction expands.
Now it is possible that those providing these destructive solutions have misjudged. It is possible in this era of the internet people do understand the malicious certainty of current systems and thus will not listen to proposals from the factions that are producing them. This would be a historical evolution indeed, though one that has happened before from time to time.
But even if the forces of this systemic evil are confronted powerfully, society itself will still become increasingly chaotic. This is NOT a place where you want to be. When the certainty of perceived government corruption rises to 80, 85 or 90 percent, people will simply begin to contemplate an overthrow of the entire system.
Gallup tells us that the lack of "improvement" when it comes to people's perception of corruption and government is "disconcerting." But we also see clearly that people's distrust has been growing on an annual basis. When it comes to "confidence" in government , people hold Congress at well under ten percent. The Supreme Court doesn't do much better.
It is never written about in the mainstream media, but when 75 percent or more believe that their form of government is inherently corrupt and when less than 10 percent have any confidence in the federal legislative body, then the citizenry has basically lost faith in the system under which they live.
These statistics tell us that people have no confidence in federal traditions, in economics or politics. There are other statistics that millions in the US would emigrate were they to have the wherewithal.
As we've pointed out in the past, it is not perhaps so expensive as you think to depart from the US or Europe. And certainly it is not so expensive to secure your wealth and your family's safety where you are today.
Not that other countries aren't corrupt too.  But, the US is constantly going the wrong way on these lists.  It has been dropping in every freedom index for years and now it is nearing the top of the corruption index.  And it only trails a few countries including Lithuania and Ghana as being massively corrupt.
In many ways government corruption is actually good.  Government serves no purpose but as a restraint on the prosperity of its geographic region so more corrupt governments are often a way for people to do business by giving some of the corrupt officials a bit of money in order to be allowed to create their business or avoid their impediment.  Walmart recently was involved in a "bribery scandal" in Mexico… but those who think it was a scandal clearly don't know how things work in Mexico.  Government officials are always on the take and at least that allows for business to proceed… although it'd be much better if there was no government at all.
But the US has such a massive government that only the rich can take advantage of these opportunities to avoid government restriction.  That's why no one batted an eye when Donald Trump said, "As a businessman and a very substantial donor to very important people, when you give, they do whatever the hell you want them to do.  As a businessman, I need that."
In effect he said he pays off politicians for favors and he actually prefers that to not being able to do so.  As do we when given the option of not conducting business or giving a "donation" to a government official, we are happy to at least have an option.  But in the US you need to be wealthy to pay off the politicians… really wealthy.  If you don't at least have your own private jet then you really can't get around the massive government in the US that stands in your way of conducting trade or avoid getting caught up in their myriad of rules, regulations and arbitrary laws.
In many ways the US is the worst of both worlds.  It has a massive government that is involved in almost every facet of its citizen's lives… and unless you are extremely wealthy there is no way you can avoid it.
But, there are methodologies you can employ and systems you can use to detangle yourself from the government. Here at The Dollar Vigilante we understand these systems and have considerable experience in prescribing what is necessary to help you and your family prosper when others are not.
Don't continue to wear rose-colored glasses when it comes to examining the state of finances and the overall state of the economy and of money in the 21st century. Governments are broke, military confrontation is on the rise and monetary debasement is the generally accepted tool to deal with all  this. Actually debasement makes everything worse, far worse.
There are so many ways you can counteract the difficult and destructive trends around you. Please visit us to gain access to our White Paper providing you with answers you need to know. You can gain access to that White Paper at www.SurviveShemitah.com. There you will also find videos and our just-released book, Shemitah Trends that discusses the upcoming chaos now threatening us.
While you are there, please take the opportunity to subscribe to our TDV newsletter using our three-month Shemitah special offer.  You can subscribe for three months for only US$39.95 and this is a money back offer as well, so there is no risk!.
The real risk is to continue to live in a society where vast majorities of people have no confidence in the government under which they subsist or the people running it. This is a recipe for social unrest and it is not at all helped by the intentions of those leading society who are actively encouraging these trends so they can suggest the next "solution."
You're already a visitor to TDV and we would encourage you strongly to take the next step and become a subscriber. Your wealth may be significantly enhanced, along with your family's safety and well-being.