Bitcoin has just blasted to another new all-time high of $8,055!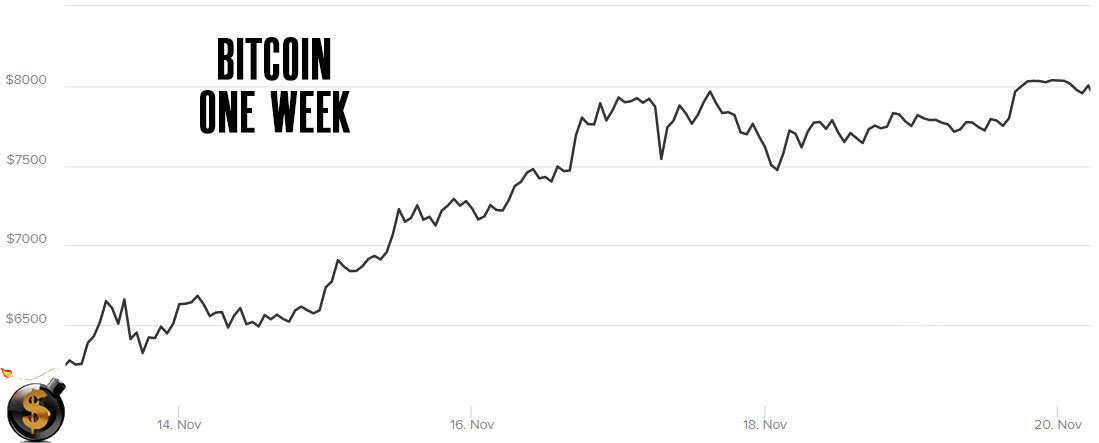 But, that is the US dollar price.
Bitcoin often trades at higher prices in relation to other currencies, but none so much lately as the Zimbabwean "New Zim dollar."
Here's a little tip. If you have already run one of your fiat currencies into the ground, putting adjectives like "Strong", as in Venezuela's "Strong Bolivar" or "New" as in the Zimbabwe "New Zim dollar" in front of the name doesn't make it automatically better.
In fact, if you have the same corrupt, criminal, communists running the country you will very quickly end up with wheelbarrow money again.
This is what is currently going on in Zimbabwe, where thousands of people have been protesting and uprising in the streets of Harare, after president Mugabe failed to announce his expected resignation today.
The Republic of Zimbabwe has been controlled by a dictating regime led by Robert Mugabe who regained control more than three years ago and has been causing extreme hardship as a result of his party's reckless government spending which has sent public debt surging as a consequence of the country's massive money printing.
To finance its deficits, the government of Zimbabwe created a currency called the "New Zim dollar." This, despite being issued at par to the US dollar, trades at a significant discount to the US dollar.
The insane inflation rate of this new currency currently sit at 348% per year and is, in turn, constantly and rapidly expanding the nation's money supply.
This new currency will eventually suffer the same fate as all fiat and the previous Zimbabwe dollar which was suspended indefinitely as of April 2009 after inflation levels in the nation soared over 5 billion percent.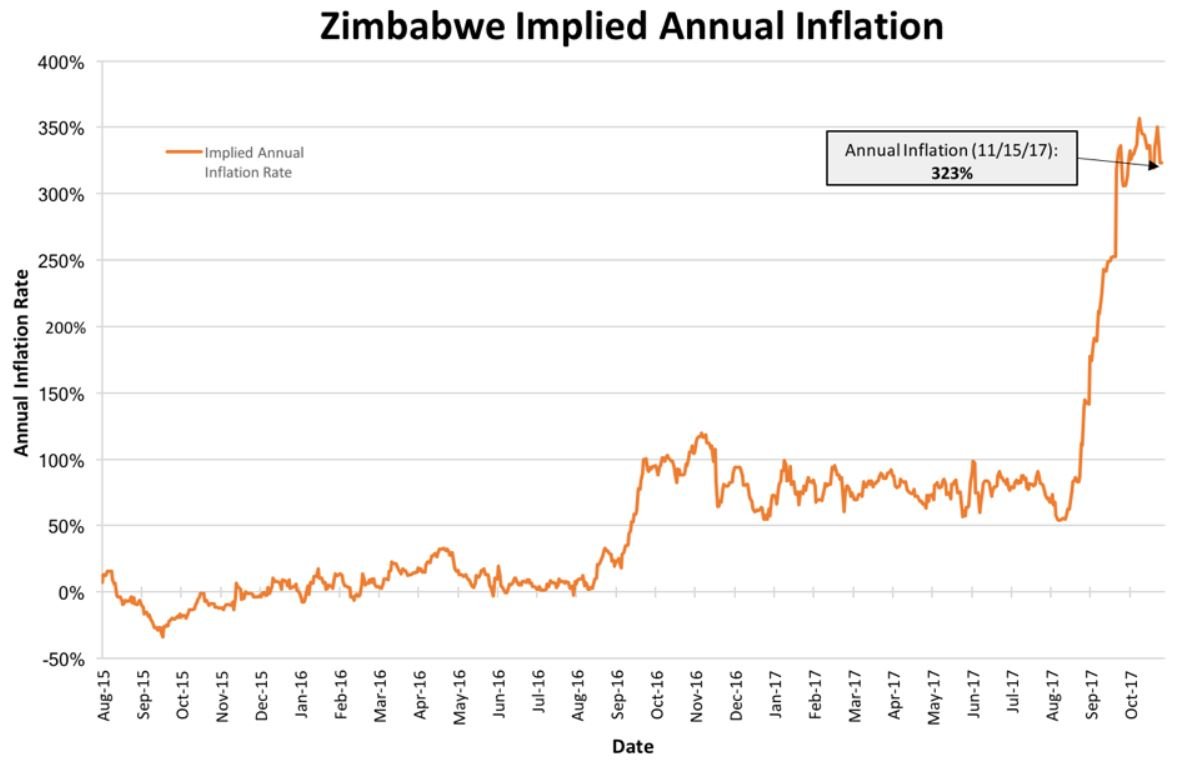 But, because this isn't the first time the nation has been sold down Victoria Falls, the oppressed citizens of this African nation have turned to bitcoin to help preserve their wealth and purchasing power.
Similar to the way Venezuelans have begun mining and investing in bitcoin because of president Maduro's socialist regime who had hyperinflated the bolivar and forced many in the country to have to kill stray animals to survive because of a severe lack of food, the Zimbabwean military began seizing power this past Wednesday and has caused the price of bitcoin to skyrocket to the equivalent of $13,500 US!
That's an almost 70% premium over exchange averages!
While the recent record highs in bitcoin have brought lots of newcomers into the cryptocurrency markets, many common investors are unaware of just how incredibly high the premiums for bitcoin can go especially in places where the local fiat currency has been largely debased like in Zimbabwe.
That is the beauty of the free-market at work. It has allowed people who previously couldn't, to order food and supplies online by paying in bitcoin. Many have no choice but to use cryptocurrency since people cannot send money outside the country or pay for international transactions using formal banks.
After all, bitcoin was created as a peer-to-peer payment system that allows common people to circumvent the need for local and debased fiat currencies.
Bitcoin knows no borders, nor can it be stopped by a forceful government agency because it doesn't exist in any one central location.
And one of it's most valuable attributes is that it cannot be inflated because there are a finite number of bitcoins that will ever be created.
What is currently going on in Venezuela and Zimbabwe will happen in Europe, the US and throughout the West… it's just a matter of time.
Could that be the reason that bitcoin continues to break all-time highs day after day? Are people realizing it may be one of the only ways to retain purchasing power during the coming collapse?
In the next issue of the TDV newsletter, coming out in the next few days, I'll go over a complete analysis of the bitcoin market while Senior Analyst Ed Bugos shows why money supply growth, or lack thereof, may be hinting at a crisis coming soon.
With bitcoin at yet again another all-time high, we'll continue to offer a discount to our newsletter HERE.
Along with access to the newsletter you get access to our private, subscriber's only Facebook group which many subscribers consider to be as important as the newsletter itself.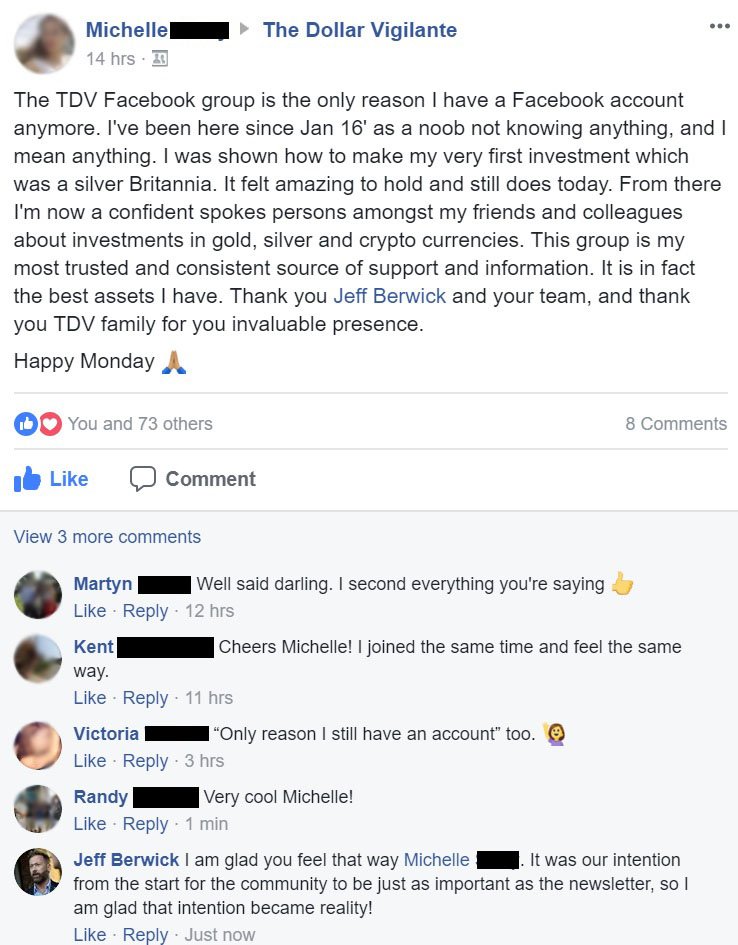 There are very difficult times ahead… make sure you have a good support group around you to help you navigate the confusion so you can not only survive, but prosper, during the coming collapse.
About the Author
Anarcho-Capitalist.  Libertarian.  Freedom fighter against mankind's two biggest enemies, the State and the Central Banks.  Jeff Berwick is the founder of The Dollar Vigilante and host of the popular video podcast, Anarchast.  Jeff is a prominent speaker at many of the world's freedom, investment and cryptocurrency conferences including his own, Anarchapulco, as well as regularly in the media including CNBC, Bloomberg and Fox Business.  Jeff also posts exclusive content daily to the new blockchain based social media network, Steemit.