The cryptospace has gained $20 billion for the second day in a row and now sits at $294 billion total, led by bitcoin which also has had its second straight day with a 8% gain and now sits just shy of $9,500.

From bitcoin's inception, it took 1,789 days for it to break $1,000. It then took 1,271 days to gain another thousand and break $2,000.
And since then, it has just gone turbo.
$0 - $1000: 1789 days
$1000- $2000: 1271 days
$2000- $3000: 23 days
$3000- $4000: 62 days
$4000- $5000: 61 days
$5000- $6000: 8 days
$6000- $7000: 13 days
$7000- $8000: 14 days
$8000- $9000: 9 days
And now bitcoin is over $9,000!
And with bitcoin at $9,400, Bitcoin Cash at $1,600 and Bitcoin Gold at $350, the total value for those who have held bitcoin since August 1st is $11,350!
In the not so distant future, it is quite possible that those who are considered to be very rich will be known as "having a bitcoin". If you have more than one, you'll likely be known as being incredibly wealthy.
Stick with us here at The Dollar Vigilante, where we've been covering bitcoin since $3 in 2011 and cover the entire cryptocurrency market like no other… and our subscribers have profited massively.
We just took a poll on our private subscriber's Facebook page asking them how much they have profited from bitcoin and other cryptocurrencies. Here are the responses so far: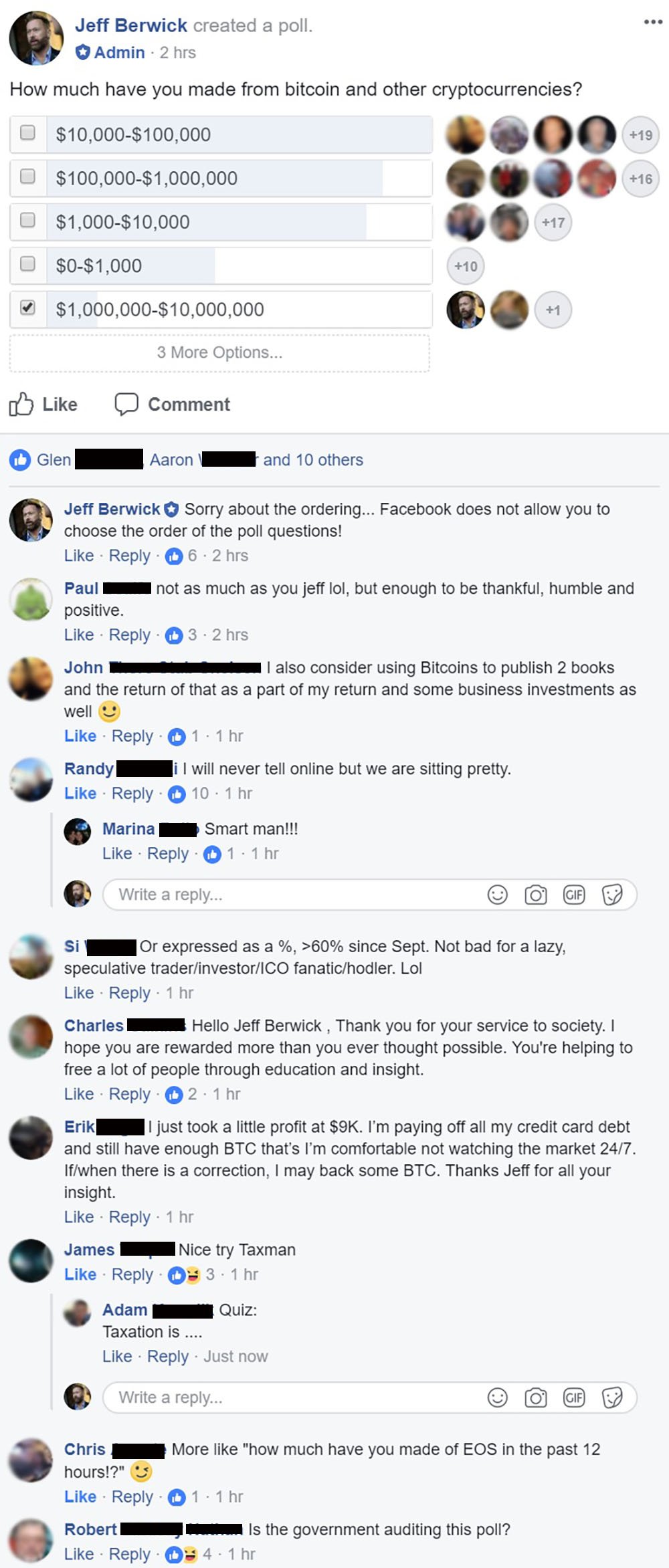 It has only been 2 hours since the poll was posted but there have already been over 60 responses and nineteen people have made between $10-100k, 16 people have made between $100k-$1m and three people have made more than $1 million!
Needless to say, we have a lot of happy subscribers! With bitcoin at yet again another all-time high, we'll again offer a discount to the TDV newsletter and membership to our worldwide community. You can access it all by clicking HERE.
Next stop $10,000!