At one point last night the crypto market was nearly entirely green across the board. Here was a short video I uploaded to my Facebook page where I talk about it.
Then, today, Bitcoin Cash (BCH) was added for trading on Coinbase's GDAX exchange. And, Bitcoin Cash, which was already up 50% in the last week skyrocketed more than 50% today to above $3,800.

In fact, it overloaded Coinbase's GDAX exchange and caused GDAX to crash after only 4 minutes of trading with the last quoted price on GDAX for BCH at $9,000!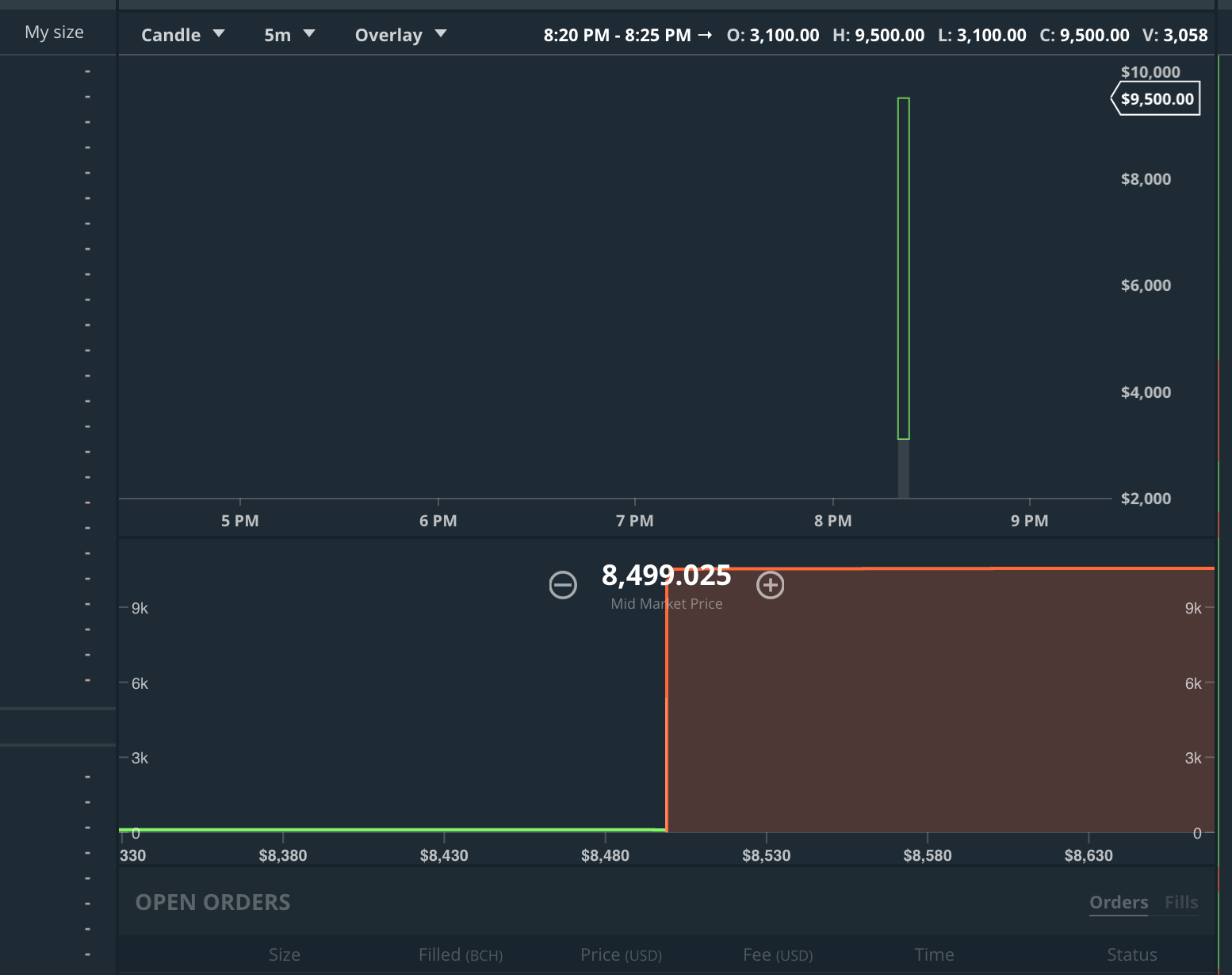 Trading is set to resume at 9 am on Wednesday on GDAX… maybe.
In response, bitcoin dropped more than $2,000 in the last 24 hours.

As I have said many times in the last few weeks, there are real concerns about bitcoin ever being usable as a digital currency due to slowness to adapt by Bitcoin Core coders and the bitcoin ecosystem.
They said that Segwit 2x would fix the problems with slow transfer times and expensive transaction costs… and it hasn't. Now, the market waits to see if or when lightning network will proliferate and if that will fix the problems.
I spoke with Bitcoin Core coder, Jimmy Song, about these issues in an Anarchast episode released today.
In the meantime, digital cash alternatives to bitcoin have been skyrocketing.
BITCOIN CASH
I was adamant to TDV subscribers after the August 1st hard fork to not sell their Bitcoin Cash. I foresaw what is currently happening and said that subscribers should maintain a 1:1 ratio of bitcoin and Bitcoin Cash because of exactly what is going on right now.
I was mocked for my views on Bitcoin Cash. But, that's nothing new.
I was mocked for quitting my job at a bank and saying the internet would change everything in 1993 and starting an internet company that went on to be worth $240 million. I was mocked for my belief in that Ponzi scheme/scam called bitcoin when I recommended it at $3 in 2011. I was mocked for recommending the Steem "Ponzi scheme" a year and half ago at $0.91… it is currently over $3 and many people who listened to me have made tens or hundreds of thousands of dollars posting on the site.
Some people have asked me how is it that I can take such extreme positions and handle all the hate that comes my way. It's actually quite easy. When you realize almost everyone in the world is a moronic brainwashed slave, their taunting and mockery doesn't really mean much.
Plus, I always get the satisfaction of being right and making a lot of money while they miss the boat every time.
In any case, I was very adamant that Bitcoin Cash could become bigger than bitcoin. And, not 1 in 100 people agreed with me.
Today we are seeing that become closer to reality with Bitcoin Cash now trading, on its own, at a higher level than bitcoin was trading at during the fork on August 1st.
Bitcoin traded at $2,800 on August 1st, the day it forked. Today, Bitcoin Cash, alone, traded over $3,800.
For those who have followed my advice, and owned BCH 1:1 with bitcoin, the drop in bitcoin today did not hurt them at all as BCH rose commensurately for a total value of over $20,000.
DASH
Another potential digital cash frontrunner is Dash. I recommended this to TDV subscribers at $3.52 in January, 2016.
It currently trades over $1,250 for a gain to date of over 35,000%.
Not bad.
I reiterated it as a buy in our November 23rd issue, and it has doubled since then.

LITECOIN
Litecoin is also in the running for the race to be the top digital cash crypto.
Interestingly, I've known about Litecoin since its inception in 2011, but never recommended nor liked it much as I didn't see the value proposition in it.
However, in our November 23rd issue, with Litecoin trading at $70, I finally recommended it, saying that it will likely garner a lot of interest in the race to replace bitcoin as a usable digital currency.
As soon as I recommended it, Litecoin went from $70 to over $300 in just a few days.

MONERO
Monero is a sentimental favorite of mine due to its incredibly heavy focus on privacy. If you use Monero virtually no one could ever find out you even owned it much less where you spent it or used it.
In this day and age with criminal mafias rife across the planet and terrorist organizations like the CIA, FBI, IRS, and NSA tracking everything poor American slaves do… cryptocurrencies like Monero are crucial to any last hope for freedom in this world.
I recommended Monero at $10 in August, 2016 and it currently trades over $400 and has skyrocketed with the rest of the digital currency alternatives since I've publicized the problems with Bitcoin Core in the last few weeks.

MY NEXT RECOMMENDATION
My last major recommendation to TDV subscribers was EOS at $1.30 this summer. A few days after my recommendation the Chinese mafia tried to ban ICOs in China and EOS fell back to $0.50 where I reiterated to TDV subscribers that it was the buy of the century.
EOS has since risen to over $12 today for a 2,300% gain from $0.50!

And now, at 12 pm Eastern time on December 24th I will release my next cryptocurrency recommendation to TDV Premium subscribers (note: TDV Basic subscribers can upgrade here to make sure they receive my recommendation as soon as it is released).
I won't give away too much here right now… but it also could be a frontrunner to take over from bitcoin as digital cash and the market has not taken full notice of it yet.
I expect, at the very least, once I recommend it, it will likely rise hundreds of percent as the market becomes aware of it.
You can get access to it and receive this alert at 12 pm Eastern time on December 24th by clicking HERE now and subscribing to TDV Premium.