Peter Schill and the Health Ranger are finally right. They were right all along.
The cryptocurrencies have all crashed and are headed towards zero.
It was only a few days ago I commented that almost every cryptocurrency was in the green. Today was the exact opposite.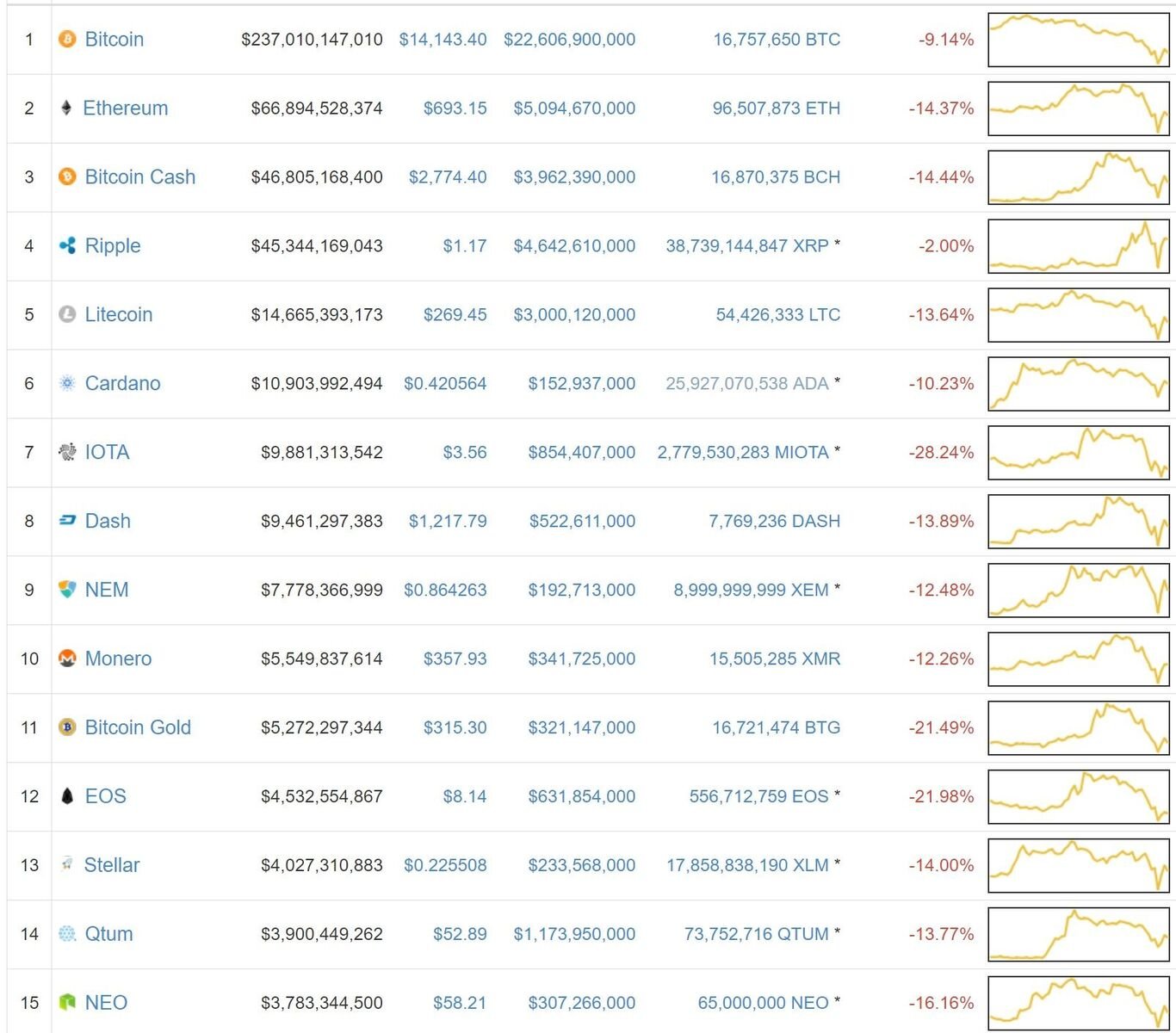 Cryptocurrencies hit an all-time high of $652 billion just a day ago and on Friday they hit a low of $423 billion for a one day loss of 35%.
They have since recovered to $540 million.

Bitcoin hit an all-time high just above $20,000 on December 17th and recorded a low at Coinmarketcap.com on Friday of $11,833 and is currently just above $14,000.

That means bitcoin has slumped 40% since its high to the low and is currently 30% off its all-time high. Overall, bitcoin has fallen further than the rest of the sector quite dramatically in the last few days.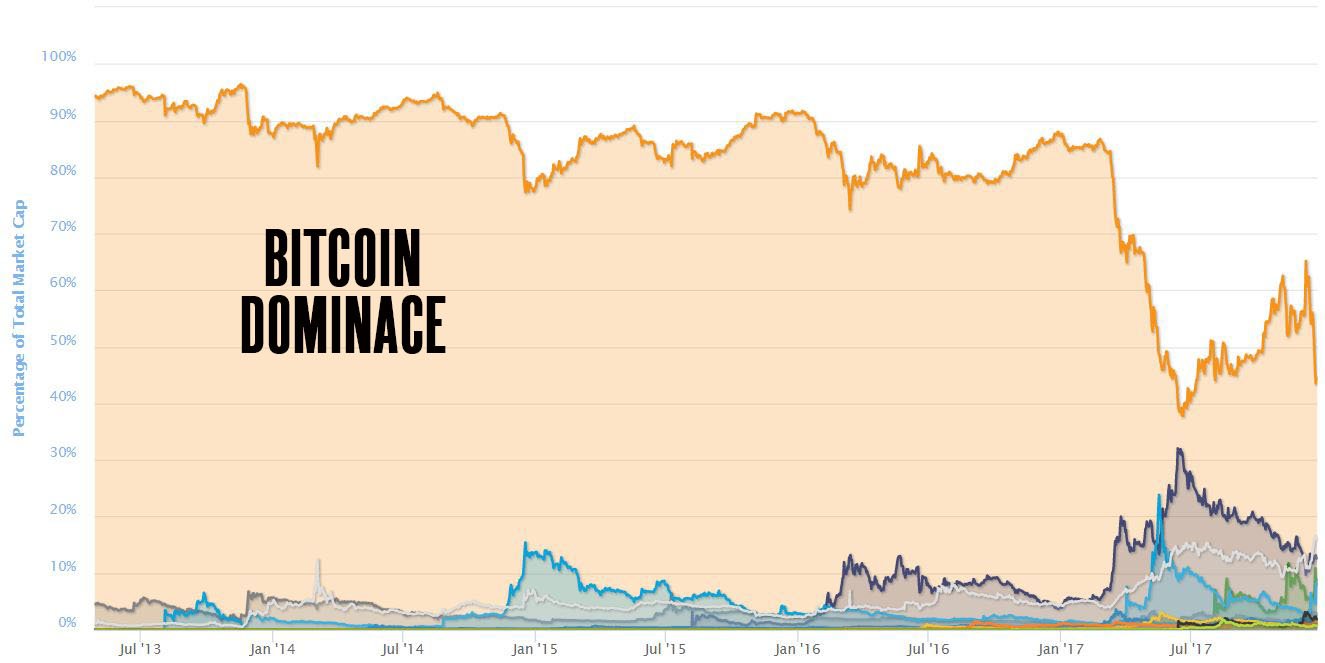 But, wait, are Peter Schill and the Vitamin guy right? We are only down in the neighborhood of 30-40%.
Bitcoin has actually fallen 30% five times this year already. So, on average, this happens every two months. And, during previous drops it was followed by an increase of 76%, 237%, 183%, 165% and 152% before it dropped again.
And here are past major drops going all the way back to 2010: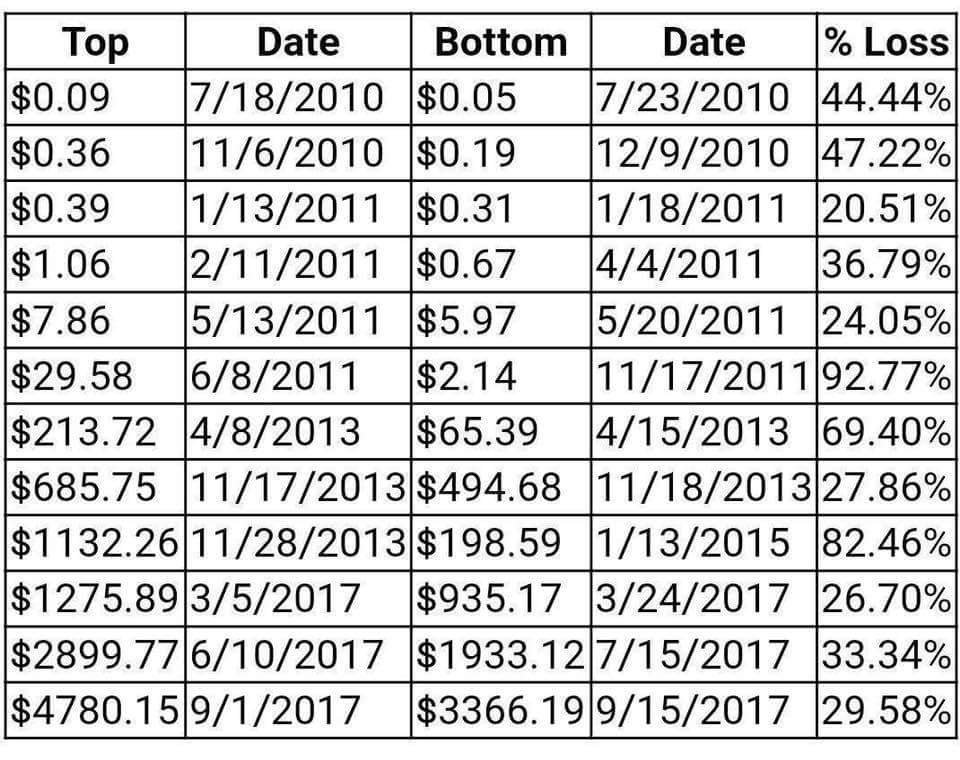 So, is this latest drop all that extreme? Or unexpected?
In fact, it wasn't unexpected at all, by us here at TDV.
TDV's Senior Analyst, Ed Bugos, put out an alert to subscribers (subscribe HERE) on Thursday warning of a pullback being imminent, saying, "We could easily see prices fall back to $13,500. The primary bull market trend is intact above $12,700, which is the last highest low."
Less than 24 hours later and bitcoin hit Ed's target low almost exactly. And, as you know, I have been suggesting taking profits on bitcoin and the cryptos since bitcoin soared over $15,000. And Ed reiterated that in his alert yesterday, saying, "we still highly recommend rebalancing your portfolio and reducing your crypto exposure a little."
So, we will see how this most recent pullback plays out. In this interview I did today with Rogue Money I discuss where things could be headed.
For now, this looks like a completely ordinary pullback after a massive run higher. And, a healthy and needed pullback at that.
Perhaps bitcoin and the cryptos are giving everyone an early 30% off Christmas present. If this was Black Friday and it was 30% off DVD players at Walmart, millions of American sheeple would climb over each other to get it. But, when cryptos are 30% off? For some reason, people have the opposite reaction to retail goods and they are too scared to buy.
For all those who had been waiting for the dip to buy... this is the dip.
And, on December 24th at 12pm Eastern time I'll be revealing my next cryptocurrency pick to TDV Premium subscribers (you can subscribe or upgrade from Basic HERE).
It has fallen about 30% along with all the other cryptos in the last few days… so, if that doesn't change by Sunday you may get it at a bargain.
For now, HODL on, everyone.
About the Author
Anarcho-Capitalist.  Libertarian.  Freedom fighter against mankind's two biggest enemies, the State and the Central Banks.  Jeff Berwick is the founder of The Dollar Vigilante and host of the popular video podcast, Anarchast.  Jeff is a prominent speaker at many of the world's freedom, investment and cryptocurrency conferences including his own, Anarchapulco, as well as regularly in the media including CNBC, Bloomberg and Fox Business.  Jeff also posts exclusive content daily to the new blockchain based social media network, Steemit.