What a year for cryptos it was!
To put it in perspective, bitcoin could fall 90% from current levels and it will still have outperformed stocks, bonds, and real estate in 2017.
Bitcoin started 2017 at $960.79.

At the time of this writing it is near $13,000 for a gain of 1,250% in 2017.
And, bitcoin was actually one of the worst performing cryptocurrencies in our TDV portfolio in 2017!
Ethereum (ETH) started 2017 at $8. It has since hit over $800 for a nice 10,000% gain in 2017.

That's pretty good, but not as good as Dash which started the year at $11.19 and recently hit $1,600 for a nearly 15,000% gain.

We initially recommended bitcoin at $3 in 2011 giving us a 500,000% gain. And we recommended Ethereum at $2.29 in January, 2016, giving us a 34,000% gain and Dash at $3.52 in 2016, giving us a 45,000% gain.
Not too shabby. How are your mutual funds at JP Morgan doing?
We polled TDV newsletter subscribers recently asking them how they've done in cryptos.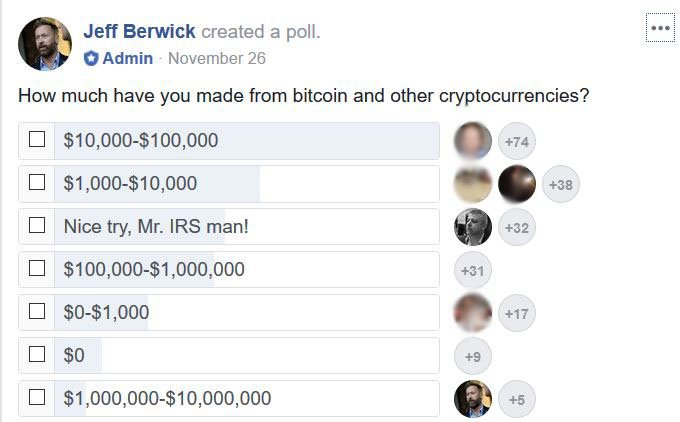 As you can see, many made 6 figures and some others made between $1-10 million!
Here are several of the many happy messages we have been receiving from subscribers including:

And this one:

Plus this one:

And these three:



And after midnight Eastern time on December 31st, on New Year's Eve, we'll be raising the rates for the TDV newsletter.
Until midnight, though, you can get a discount to subscribe to the TDV Newsletter HERE. Hopefully in 2018, you'll be another happy subscriber like many of them listed here!
Our next issue of TDV will be going out before the end of the year and you can get access immediately by subscribing HERE.
Wishing you all the best for 2018!
About the Author
Anarcho-Capitalist.  Libertarian.  Freedom fighter against mankind's two biggest enemies, the State and the Central Banks.  Jeff Berwick is the founder of The Dollar Vigilante and host of the popular video podcast, Anarchast.  Jeff is a prominent speaker at many of the world's freedom, investment and cryptocurrency conferences including his own, Anarchapulco, as well as regularly in the media including CNBC, Bloomberg and Fox Business.  Jeff also posts exclusive content daily to the new blockchain based social media network, Steemit.