The National Institute of Standards and Technology (NIST), an agency of the US Department of Commerce with a nearly $1 billion annual budget, has wasted more extorted money and just released an introduction to the technology behind bitcoin.
The document, titled creatively by some bureaurat, "Interagency Report: Blockchain Technology Overview" introduces the concept, discusses its use in cryptocurrency, and showcases broader applications.
Of most interest to me, though, was this paragraph:

As many know, I have severely questioned the route Bitcoin Core (known as bitcoin to most) has taken and have even said in various venues that Bitcoin Cash is closer to the real bitcoin than Bitcoin Core's version is.
But, to see NIST agree with me today makes me feel ill.
After all, this is the same organization that said that the World Trade Center towers defied all physics on 9/11 and the top 20 floors accelerated at freefall speed through the bottom 80 floors turning into dust instantly and smoldering in molten lava that burned without oxygen for weeks… And that the 52-story World Trade Center 7 also fell into its own footprint at freefall speed due to "debris" and some small office fires after Lucky Larry Silverstein said to "pull it" and the BBC reported it collapsed 20 minutes before it did.
So, NIST is not exactly the best source of credible information! It's kind of the opposite.
NIST is basically a propaganda arm of the US government. And, they have been complicit in trying to put back doors into cryptographic technologies when not busy working on propaganda.
And, as per their M.O., they even got their analysis wrong. Segwit was not a hard fork; it was a soft fork.
So, I can at least take comfort that NIST somewhat agrees with me, but for the wrong reasons.
But, just as I was sad and confused at being somewhat on the same side of an argument as a wretched agency of the USSA, George Soros came in to save the day showing me that I am on the right side of the debate on bitcoin in general.
In Davos this week, the demon controlled meat suit that goes by the name of George posited that bitcoin props up dictators!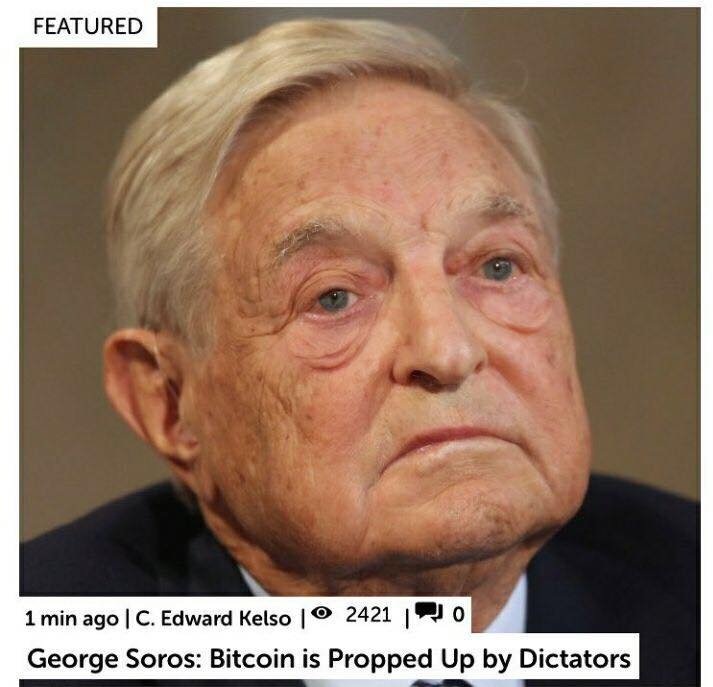 What, he doesn't like the competition?
Soros went on to say that bitcoin is also used for "tax evasion".
Good! F#@K your global extortion and enslavement system George. And F#@K you too NIST.
I feel better now.
About the Author
Anarcho-Capitalist.  Libertarian.  Freedom fighter against mankind's two biggest enemies, the State and the Central Banks.  Jeff Berwick is the founder of The Dollar Vigilante and host of the popular video podcast, Anarchast.  Jeff is a prominent speaker at many of the world's freedom, investment and cryptocurrency conferences including his own, Anarchapulco, as well as regularly in the media including CNBC, Bloomberg and Fox Business.  Jeff also posts exclusive content daily to the new blockchain based social media network, Steemit.