Sound the alarm! Our government overlords have now granted themselves the authority to further extort one of the last bastions of freedom: the internet.
In a monumental ruling overturning nearly 50 years of legal precedent, the US Supreme Court has given states the power to tax online retailers.
Originally, internet companies were somewhat sheltered from taxation thanks to an old law that "barred states from imposing sales taxes on most purchases their residents make from out-of-state retailers."
But now, under the rule of "low-taxes, pro-business" Trump, we're entering a new era of statism.
No dystopian nation-state is complete, of course, without some classic Orwellian doublespeak.
On April 17th, Trump tweeted: "Employment is up, Taxes are DOWN. Enjoy!"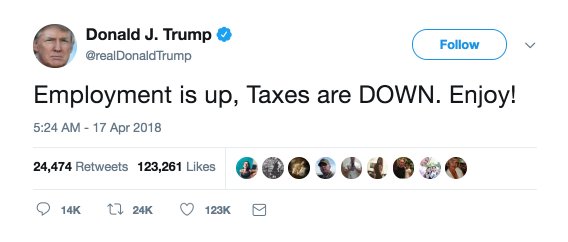 But then, on June 21st, he tweeted: 
"Big Supreme Court win on internet sales tax - about time! Big victory for fairness and for our country. Great victory for consumers and retailers."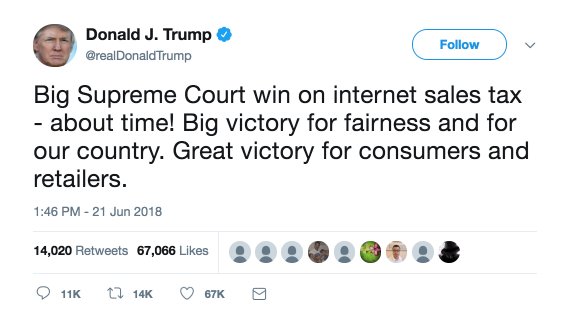 Can someone ask President Business how exactly do consumers win when our goods and services now cost much more thanks to legalized theft (taxes)?
What's even worse is, the real horror show could be coming soon for online retailers who now face mind-numbingly complex tax requirements and potentially rising debts.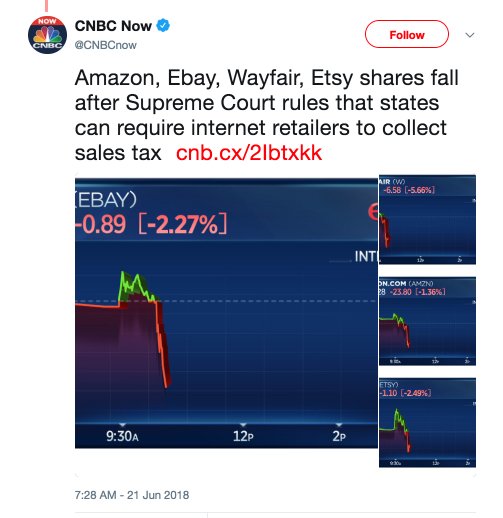 Take, for example, Laurence Kotlikoff, who owns a small internet business and recently 
aired his frustrations
 in a 
Forbes
 op-ed titled, 
Did The Supreme Court Potentially Bankrupt Tens Of Thousands Of Small Online Businesses?
Laurence has spent the last 25 years dreading this ruling. Paying his extortion fees to the state were always bad enough, but it was the additional costs of hiring financial experts to handle the process that really racked up the price tag---to $50,000 per year! Ouch.
"$50,000 a year is a huge sum for a small company," writes Laurence, "especially one like mine that is investing every penny it earns to grow and just breaking even.
"Based on the Supreme Court decision, my company's tax compliance bill as opposed to tax bill could easily come to $150,000…"
The new ruling follows a long trend of contradictions and anti-free market rhetoric from Trump, who on one end hails the wonders of lowering taxes, while simultaneously describing tax hikes as a "victory for consumers."
The statist argument is that shopping malls and traditional brick-and-mortar retailers---who never really got to avoid taxes---may see a more level playing field against internet companies.
However, you don't fix extortion by legitimizing the mafia and making everyone a victim of it---get rid of extortion altogether so no one pays the statist bribe!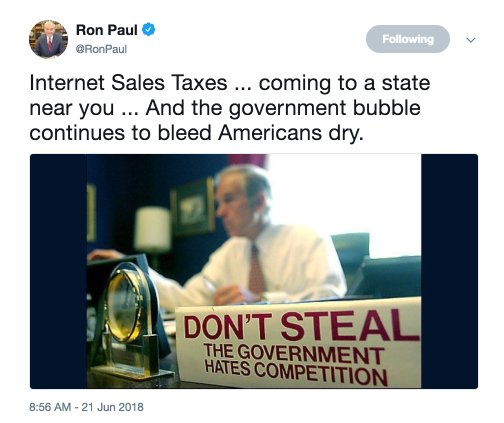 Indeed, that's part of the reason so many consumers ditched their old physical stores for online retailers in the first place. Intuitively, people can sense the difference between having the government's invisible enforcement gun to their head (taxation) and voluntarily trading in a more free, peaceful environment (the internet).
But, alas, these are strange times we live in. 2+2=5 and higher taxes are "a victory for consumers."
Still, do not grieve, my fellow freedom-fighters. Cryptocurrencies offer us a way to buy and sell products and services without the state stealing profits from every transaction.
We here at TDV have worked tirelessly to educate minds and awaken souls, and change is spreading.
The newest issue of our exclusive newsletter was just released yesterday, full of valuable information on how to profit from cryptocurrencies. You can get direct access to it immediately, by subscribing HERE.
As much as it may seem enjoyable, I hate saying "I told ya so." Especially when it's something I don't want to be right about. But I told everyone Trump was going to be no different than Obama. Or Bush. Or Clinton. They're all friends… and they're all in the same gang.
In fact, Trump is so much like Barack Drone Bomber that he's now earned his new nickname. Congratulations, Orangebama.
The same old left/right game continues on. And, somehow, a few people still believe the game is actually real. See, the consequences of the games these authoritarian psychopaths play are real, indeed. But, it isn't what the brainwashed masses think.
The "game" played by those in control of governments and central banks is nothing less than complete and total human slavery of Amerikans. By keeping them forever fighting each other in the false left/right narrative, while they are extorted, regulated, taxed, fined, tariffed, inflated and enslaved to eternity. And the only way to win is not to play.
Are you ready to opt out and own yourself?
If you want to learn how to get out of the game and become the truly free, sovereign individual you were meant to be, come to Anarchapulco this February. You can find out more at Anarchapulco.com.
About the Author
Anarcho-Capitalist.  Libertarian.  Freedom fighter against mankind's two biggest enemies, the State and the Central Banks.  Jeff Berwick is the founder of The Dollar Vigilante and host of the popular video podcast, Anarchast.  Jeff is a prominent speaker at many of the world's freedom, investment and cryptocurrency conferences including his own, Anarchapulco, as well as regularly in the media including CNBC, Bloomberg and Fox Business.  Jeff also posts exclusive content daily to the new blockchain based social media network, Steemit.