Is religion compatible with freedom? If you ask the average Christian conservative what they think about anarchy, you'll probably hear something along the lines of, "Dirty violent Commies!"
In fact, the hypocrisy has reached biblical proportions…
Here's the truth: if Christians truly wanted to honor God, they'd be anarchists—it's clearly what Jesus preached!
Lucas Bessey was raised an atheist. He basically believed Government is God and supported Obama for a short time in college before 'converting' to voluntarism in 2008.
He's now a technology teacher, business owner, and Christian family man with deep insight into the libertarian philosophy from a spiritual perspective. I had the pleasure of interviewing him for Anarchast episode 463.
As Lucas explained:
"One of the first commandments [is], 'thou shalt not steal.' Well, stealing presupposes private property. You can't steal something unless you can own things in the first place—so even back in the Torah, which would be called the Old Covenant, it was clear God's heart [was] towards property and ownership…"
We dove deep into the teachings of Christ—what he said and what his actions indicate—including his condemnation of the "money changers."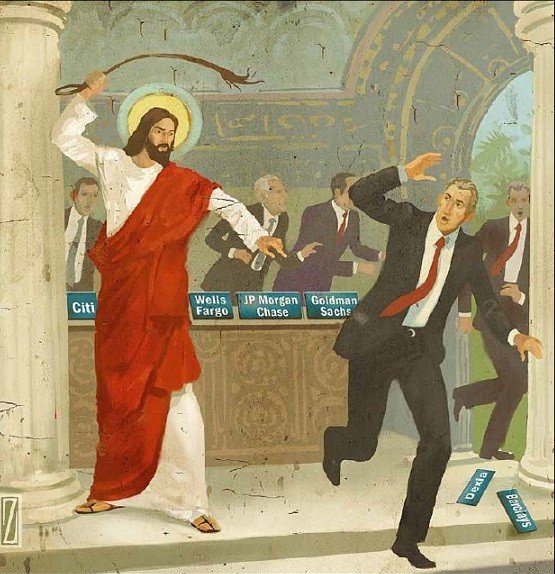 Bessey elaborated:
"The money changers were taking advantage of people. They were using God as a means to manipulate others and so Jesus is a shepherd—more than anything else, he is described as a shepherd. He comes consensually, he never forces himself on anyone, he is love incarnate."
The notion of Christ as an anarchist may sound taboo or implausible to some, but as you'll discover in our full discussion, the Bible is rife with examples and passages pointing towards this inescapable conclusion.
My conversation with Lucas covered everything from the 'social contract' vs voluntary contracts, and the gun in the room of statism, to Keynesian coercion, and Mises.
We also spoke about the golden rule, freedom in the religious life, agnosticism, generosity, and grace.
Enjoy the Full Show Here:
Christ's disapproval of the money changers—those who manipulate currency for their own vulturous benefit—makes you wonder what Jesus would think of Bitcoin.
After all, cryptocurrency is the ultimate defiance and defense against the economic criminals behind the central banking scam. Back in 2011, we featured BTC in The Dollar Vigilante Newsletter when it was only $3!
Despite volatility and other challenges since then, cryptocurrencies have established themselves as both a lucrative investment tool, and a legitimate opposition to the evil Federal Reserve System. Be sure to SUBSCRIBE for the most valuable financial advice and alerts on crypto, precious metals, and more.
A stateless society is possible—peace and love is the way.
You can learn more about real anarchism and explore the hottest issues of today from a philosophically sound perspective by downloading the new e-book, The Anarchist's Guide to the Galaxy – it's FREE!

Anarchapulco has just announced our most exciting lineup of participants to date, including Dr. Ron Paul, John McAfee, Sherry Peel Jackson, Freeway Rick Ross, and many more!
New speakers will continue being announced in the coming weeks including Cryptopulco, The Dollar Vigilante Summit, Free Your Family Camp, as well as musical guests.
Reserve your space for The World's Premier Liberty Event – Anarchapulco 2020 tickets available at Anarchapulco.com
Subscribe to The Dollar Vigilante on YouTube & follow TDV on Minds, LBRY, BitChute, DTube & Steemit.