I recently spoke at the North American Bitcoin Conference again, and while the crowd was not as large as last year, the overall message remained relatively the same. December of 2017 may have been the "market top" for bitcoin (at least for a while), but that doesn't mean the time for cryptocurrency is over.
The US national debt continues to soar and the imminent crash of the dollar and the federal government has become even more inevitable. As I reminded the audience of early adopters in Miami, that's ultimately what bitcoin is — not just a get-rich-quick scheme for the short term, but a way to change the function of money and the economy as we know it, for the long run.
After all, like any stock or currency, bitcoin has cycles. While BTC may have suddenly shot up to $20,000 (which I personally felt was too high at the time), it's recently been coasting at more seemingly reasonable levels between $3,000 and $4,000, which means more people are getting into the market to make a profit.
In the long term, bitcoin's price has been steadily rising since 2010, with only 2014 and 2018 being years where its average daily value declined. Obviously, if BTC was able to bounce back as strongly as it did from 2014, recovering from its drop in 2018 shouldn't be a problem for investors to worry about. On the contrary, it's a good thing.
Journalists love to declare that "Bitcoin is dead" though. In fact, bitcoin has apparently "died" 350+ times and counting.
Like any boom or bust, you need to know how to ride the waves of growth. Considering the average price of bitcoin in 2012 was $4 and has gone up almost every year to reach a high of $3,200 in 2018, one should certainly consider cryptocurrency as a solid investment.
Furthermore, institutional investment systems — which amount to over $150 trillion in total value worldwide — have barely even started incorporating cryptocurrencies yet. When those traditional models do, even with just one percent of that revenue, the value of bitcoin and most cryptocurrencies will skyrocket, especially since the current market cap is less than $150 billion.
Naturally, the growth potential is massive and difficult to even predict.
You Can See My Full Speech Here: 
As fiat currencies and international banks continue their trends towards eventual collapse, having assets outside of the establishment's grasp, like precious metals or cryptocurrencies will become increasingly appealing to those looking to protect their wealth.
Signs point to blockchain-based money like bitcoin potentially being the ultimate solution — indeed, this is not the ending at all, but merely the beginning.
Cryptos have only existed for 10 years. These are still very early days for this technology.
If you missed our conference which just took place in February, the good news is, you can now get access to on-demand videos of the full speeches from the Anarchapulco and TDV Summit main stages!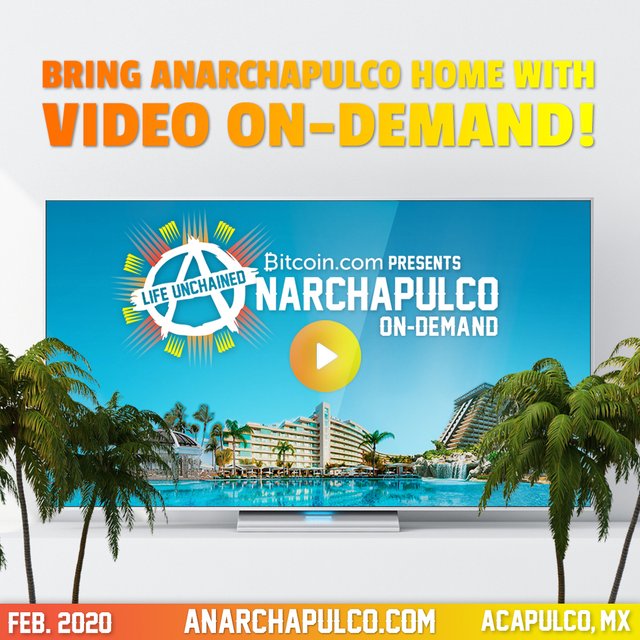 Experience Life Unchained and get direct insights from top experts in the fields of money, precious metals, stocks, investing, cryptocurrencies, internationalizing of assets and Permanent Traveler (Prior Taxpayer) lifestyle.
This is inside knowledge and presentations that you cannot get elsewhere from pros including Ed Bugos, G. Edward Griffin, Charlie Robinson, Dominic Frisby, Peter Sage, Francis Hunt, Bix Weir, David Morgan, and more.
Stick with us at The Dollar Vigilante for the best financial news and investment ideas. TDV members were encouraged to buy Bitcoin back when it was $3 in 2011. Subscribe HERE.