The way economist Paul Krugman sees it, "fiat currencies have underlying value because men with guns say they do."
Chk-chk, boom!
No, we aren't paraphrasing. Yes, that's a DIRECT quote. Krugman actually spoke the truth for once.
It's quite rare for someone to be so ridiculously bad at predictions and still be widely considered an "expert" but somehow, the disheveled New York Times columnist who was wrong about the Internet, wrong about the 2008 financial crisis, and wrong about Trump, is finally right about something.
Government violence is the only thing propping up the crusty Krugmans of the world.
The Keynesian con man, who incorrectly predicted on Election Day that Trump's victory would immediately send the markets plunging, has a history of yelling at bitcoin. Not one to break his embarrassing streak of failure, the shyster continues to be wrong about cryptocurrency in general.
At this point, we can almost bet that if Krugman says something, the opposite is most likely true.
Like any other currency, bitcoin and other cryptos retain value because proponents put stock in what it has to offer. However, unlike fiat currency, bitcoin is a free market invention built upon the libertarian principle of decentralization—it can't be propped up artificially by banks or governments.
As such, bitcoin does not suffer from the shortcomings of fiat currency, which can be very easily destabilized when the government decides to print more money, as is the case in Venezuela, Zimbabwe, and now Turkey. Indeed, bitcoin has become the preferred alternative for those living under these crumbling, centrally-planned economies.
In a recent article for The Gray Lady, the greasy Nobel Prize-winner expressed his views as a "crypto skeptic." Much like earlier failed predictions of how the internet and Amazon would never take off, Krugman hilariously weighs in on subjects he demonstrates little understanding of.
He says his biggest issue with crypto stems from "transaction costs and the absence of tethering." While it's true to an extent that Bitcoin Core faces scaling challenges in terms of transaction fees, Bitcoin Cash, EOS, Monero and others are already poised to solve these issues.
The friction of doing business, as Krugman claims, is too high for crypto to be considered a viable alternative to government-backed currencies. Citing the history of fiat money, which began with the trade of precious metals, later devolving into the use of central bank notes, and finally to digital credit and debit transactions, the establishment mouthpiece illustrates his inability to see the bigger picture.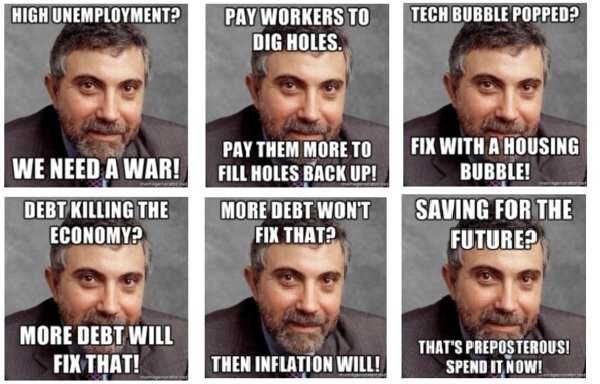 Whereas Krugman views bitcoin as a force immutable to change, proponents of blockchain technology know full well that the underlying networks supporting them will only continue to improve.
Krugman actually destroys his own arguments when he casually admits that governments "have occasionally abused the privilege of creating fiat money."
He's still either lying or confused, though. Governments don't create money—central banks, empowered by government, do.
Yet, they "occasionally" abuse their privilege? More like since the beginning of central banking and every day since.
He claims that because banks are protecting their own reputations, people who use fiat don't have to worry about seeing their purchasing power vanish the moment someone in charge decides to print more money.
Tell that to everyone living under the rule of Nicolas Maduro in Venezuela, where citizens saw the value of their hard-earned savings disappear overnight. Or, in every other country, including the US, where the purchasing power of the money has been slowly destroyed. Sad!
For example, compare what a silver dollar can still buy you today with what you get for one Federal Reserve Note. Over time, REAL money gets you at least five to ten times more food, five to ten times more gas, five to ten times more savings.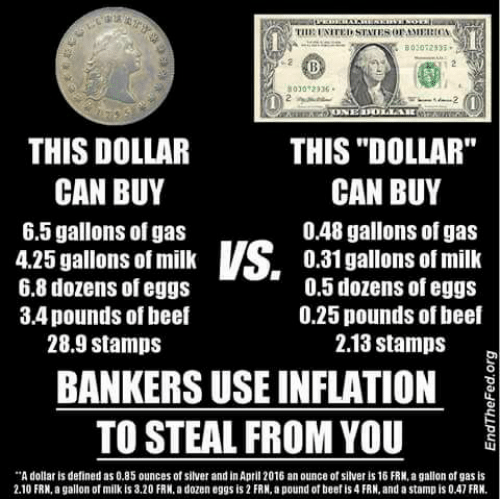 Much like feudalism, people who depend on centralized banking systems remain at the mercy of "benevolent dick-tators" who are expected to care about the masses. Corruption inevitably leads to economic recessions, or worse.
When hyperinflation arrives in the US and the dollar finally collapses under the weight of trillions in government debt, the effects will be unlike any depression in history.
In fact, this month, JP Morgan's top "quant" analyst warned that the next crisis will include flash crashes and social unrest not seen in 50 years.
In contrast, cryptocurrencies exist as a safeguard against the widespread destruction of wealth and retain their value so long as people use it. While relatively unpredictable compared to the (so-far) stable decline of Federal Reserve Notes, cryptos are presently in a nascent stage where early adopters and those of us in-the-know (SUBSCRIBE) fully expect to profit from the fluctuating values.
As history itself shows, the value of these digital tokens will eventually stabilize following more widespread use from corporate and individual backers—a fact evident in bitcoin's adoption by Microsoft, PayPal, Shopify and others.
The main problem holding back more companies from embracing the future standard of money is tax collectors (extortionists) and regulators (thugs) who remain keen to maintain the failing legacy system. The Powers That Shouldn't Be desperately want to keep ultimate control in the hands of their fraudulent central bankers—the fat cats Krugman serves, who depend on shills like him to promote their worldwide enslavement.
Now the secret is out—they even admit it themselves! For decades, human parasites with guns have protected the US dollar's value.
In the age of information, cryptography, and cyberwar, we'll see how long their brutal plan holds up.
Stick with us at The Dollar Vigilante for the best financial news and investment ideas. TDV members were encouraged to buy Bitcoin back when it was $3 in 2011. Subscribe HERE for the inside scoop.
[vifblike]
About the Author
Anarcho-Capitalist.  Libertarian.  Freedom fighter against mankind's two biggest enemies, the State and the Central Banks.  Jeff Berwick is the founder of The Dollar Vigilante and host of the popular video podcast, Anarchast.  Jeff is a prominent speaker at many of the world's freedom, investment and cryptocurrency conferences including his own, Anarchapulco, as well as regularly in the media including CNBC, Bloomberg and Fox Business.  Jeff also posts exclusive content daily to the new blockchain based social media network, Steemit.