More than ever before, people are wondering, what follows the crash of the dollar?
As scalability of Bitcoin once again becomes a major issue of concern, I recently met with Josh Sigurdson of World Alternative Media in Las Vegas to discuss the return of bullishness in the cryptocurrency market and which assets to keep an eye on.
Josh made sure to specifically ask me which cryptos I'm watching closely and why they matter.
One of cryptocurrency's most incredible use cases is in sending massive amounts of money across the world for nearly zero cost, while governments, banks and corporations stand by in awe.
Meanwhile, Bitcoin users and blockchain developers now struggle with ridiculous fees when sending small amounts of BTC for things like buying a coffee. That needs to change immediately.
Bitcoin was always meant to be money, not simply a "store of value" or digital version of gold.
The rise of the Federal Reserve will inevitably lead to the fall of the worldwide financial system. It's no secret that people are flooding into crypto, as well as into precious metals like gold and silver.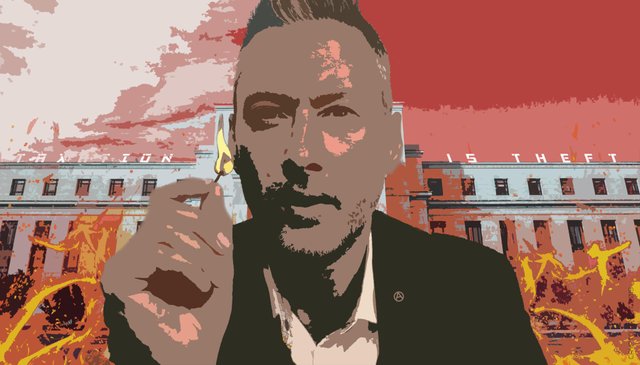 What will happen to the old system? Will it just fade away or will it collapse on an epic scale?
That question may still be up in the air, but we know it cannot be prolonged much longer. All fiat empires eventually fail.
Aside from predicting the top investments of 2019 and beyond, my discussion with Josh covered everything from anonymity and the "mark of the beast" currency, to understanding money and the subjectivity of value. We also spoke about government indoctrination, the pension scam, and more.
Trade wars and dollar devaluation can only continue for so long before fiat currencies see their final days.
Watch the Full Interview Here:
As individuals seek freedom from mental and financial slavery, technology has accelerated the process of waking up and dealing with the truth.
AnarchoVegas is coming up (right after FreedomFest), so I look forward to seeing many of you there when I return to Las Vegas.
Humanity is in a race for our lives, but right now, we actually have the momentum.
Use code TDV on the FreedomFest site for a discount off the ticket price. Use code DOLLARVIGILANTE to save money on tickets for AnarchoVegas.
Survive the dollar collapse and prosper by being a TDV member: https://dollarvigilante.com/subscribe
Subscribe to The Dollar Vigilante on YouTube before we're banned. Social media is evolving! Follow TDV on Minds, LBRY, BitChute, DTube, and Steemit.